Patient-Reported Outcome Registry for Interventionally Treated Pulmonary Embolism
The patient-reported outcome registry for interventionally treated pulmonary embolism (PE), known as PRORIT-PE, aims to address the lack of real-world evidence on the Quality of Life (QoL) effects experienced by PE patients. With an estimated 300-600 thousand clinically diagnosed cases in the United States alone, PE poses both immediate and long-term risks, including recurrence and post-PE impairment. Despite extensive research on clinical aspects, treatment and risk factors, understanding the QoL impact remains fragmented.
Recognizing this lack of information, Boston Scientific International S.A. (BSCI) aims to support the collection of patient-reported outcomes (PROs) and QoL data in PE patients in a dedicated registry. The primary objective of this registry is to implement and evaluate disease-specific patient-reported outcome measures (PROMs) for PE as well as socio-economic data. By utilising these PROMs, several sub-goals will be achieved, including gaining better insights into individual patient complaints and problems and understanding the overall QoL of PE patients before and after treatment. Also, the data can be used to assess treatment quality based on aggregated PROM data and potentially establish an outcome set for acute PE at a national level.
Unlike a traditional multi-center registry, PRORIT-PE will be set up per participating centre, creating isolated and standalone data collections. This is compliant with privacy and GDPR regulations and aims to address the worries many healthcare providers have about sharing. After the data collection period has finished, only aggregates and averages, means, standard deviations etc. will be pooled together. No identifiable data will ever leave the control of the participating centre.
Participation is possible by e-mailing to support@brightfish.com
A summary of the research protocol is available here.
Participant enrolment
Participant enrolment in the study is facilitated through a standalone registration page accessed via a browser. Each participating center has its own dedicated registration page, providing a streamlined and customized enrollment process. Participants can access the registration page by visiting the specific URL associated with their participating center. The registration page captures essential minimal participant information (name, e-mail address, birth year) and ensures secure data transmission. After enrolment a digital consent will be send to the patient. This approach allows for efficient, secure and centralised participant enrolment, ensuring that data collection and study participation are seamlessly integrated within each participating center's workflow.

Example registration pages: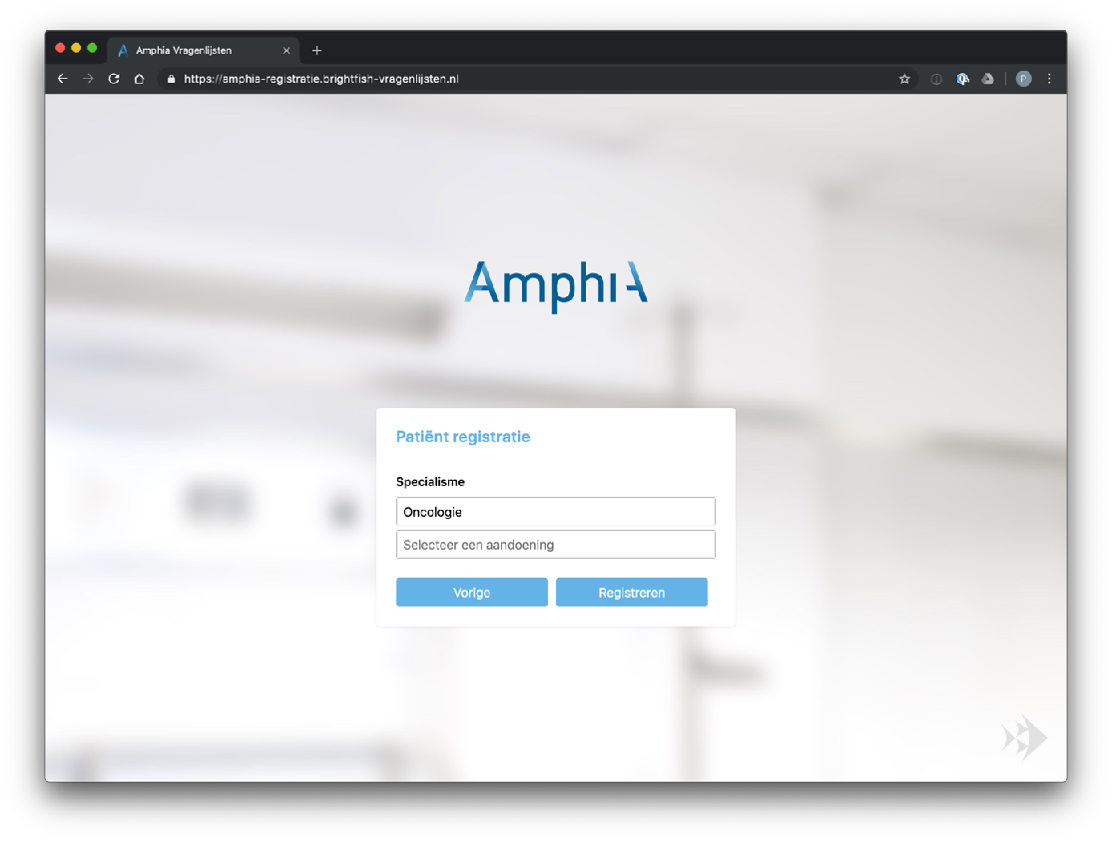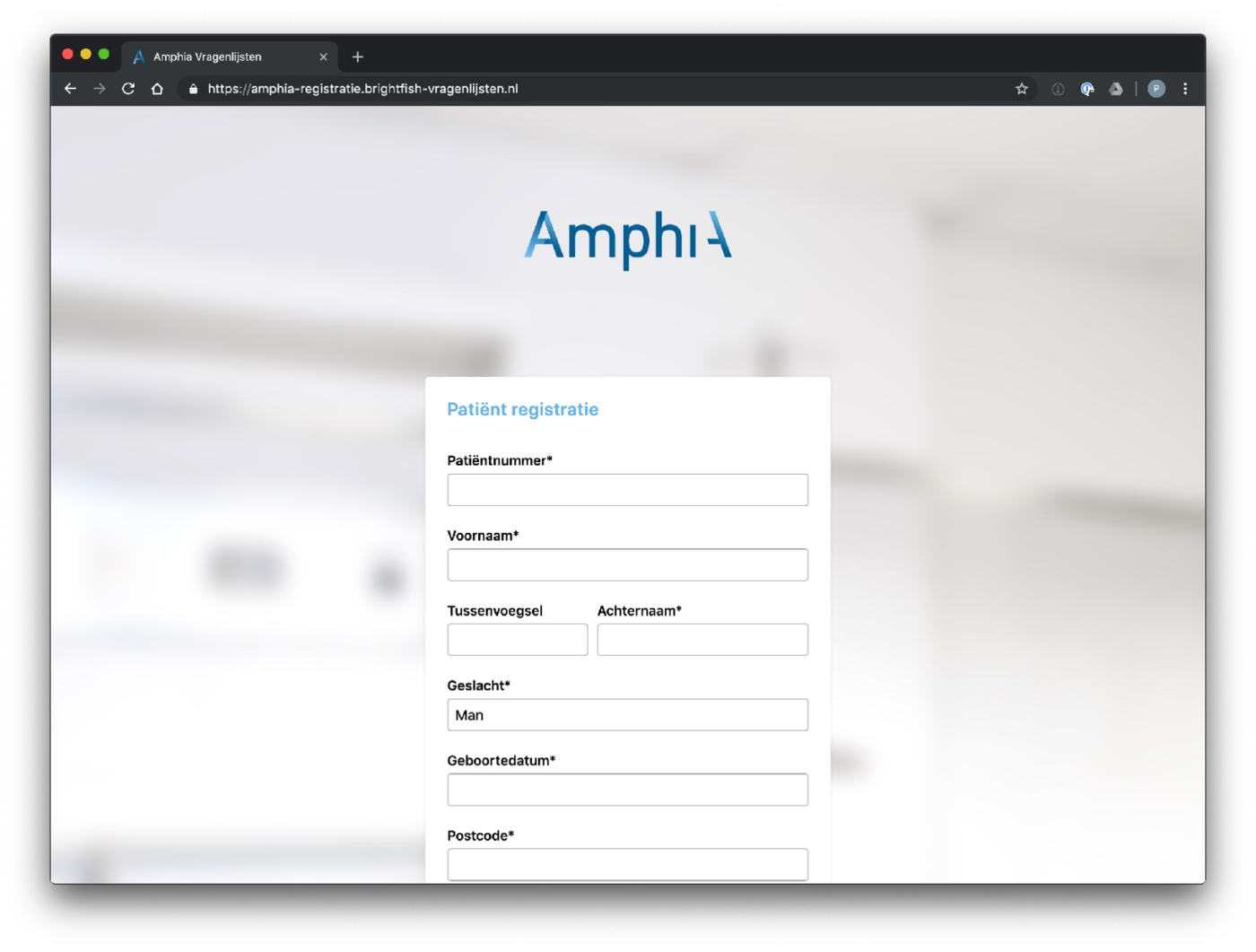 Timeline
After registration, study participants can track their progress and manage open questionnaires through the available timeline feature. This timeline serves as a visual representation of the study's timeline and milestones. Participants can view their upcoming and completed questionnaires, ensuring they stay on track with their assigned tasks. The timeline provides a clear overview of the participant's progress, making it easy to track and manage their involvement in the study. This feature enhances participant engagement and helps ensure that participants can conveniently navigate through the study's requirements while staying informed about their current and upcoming activities.

Example questionnaires: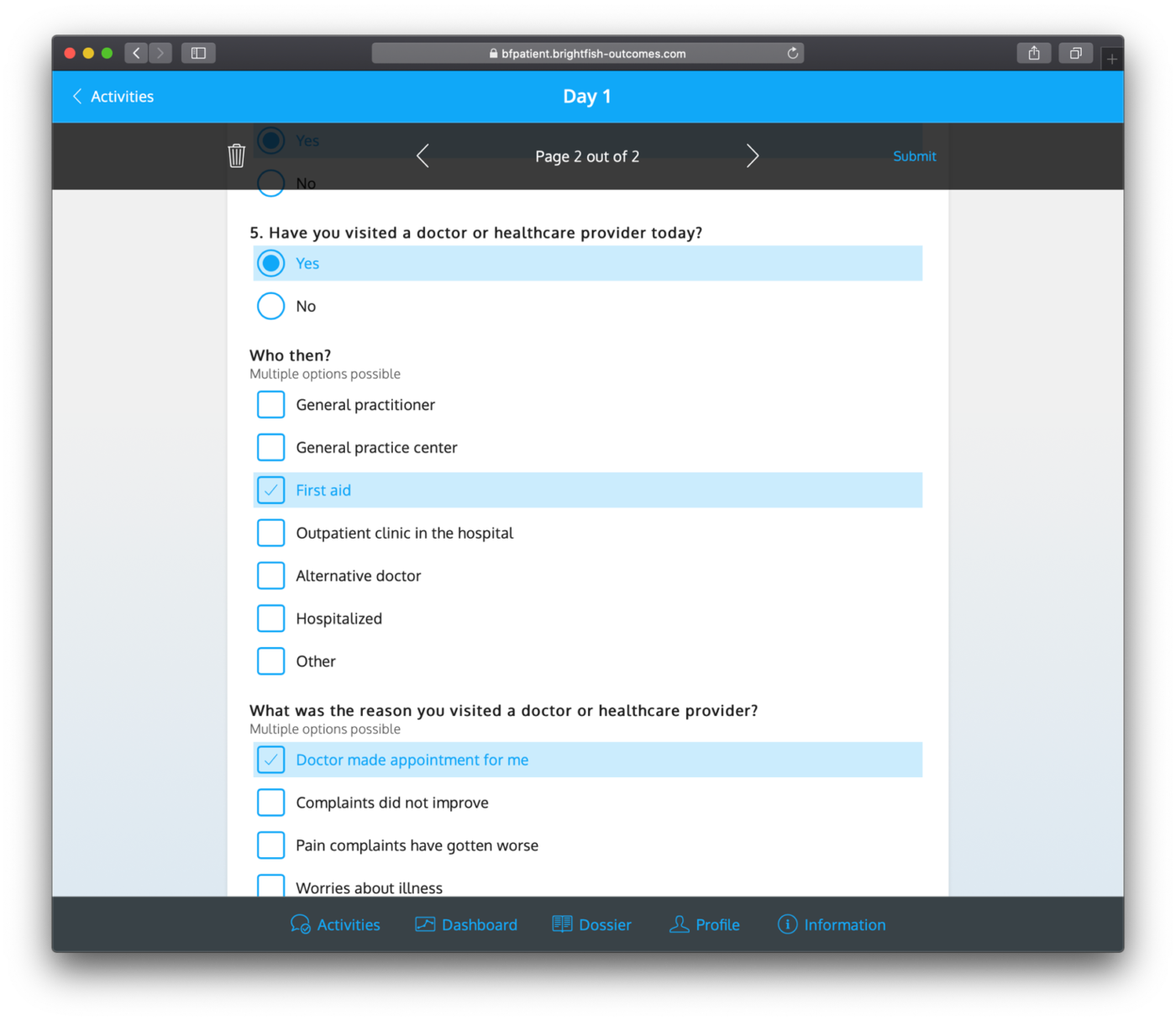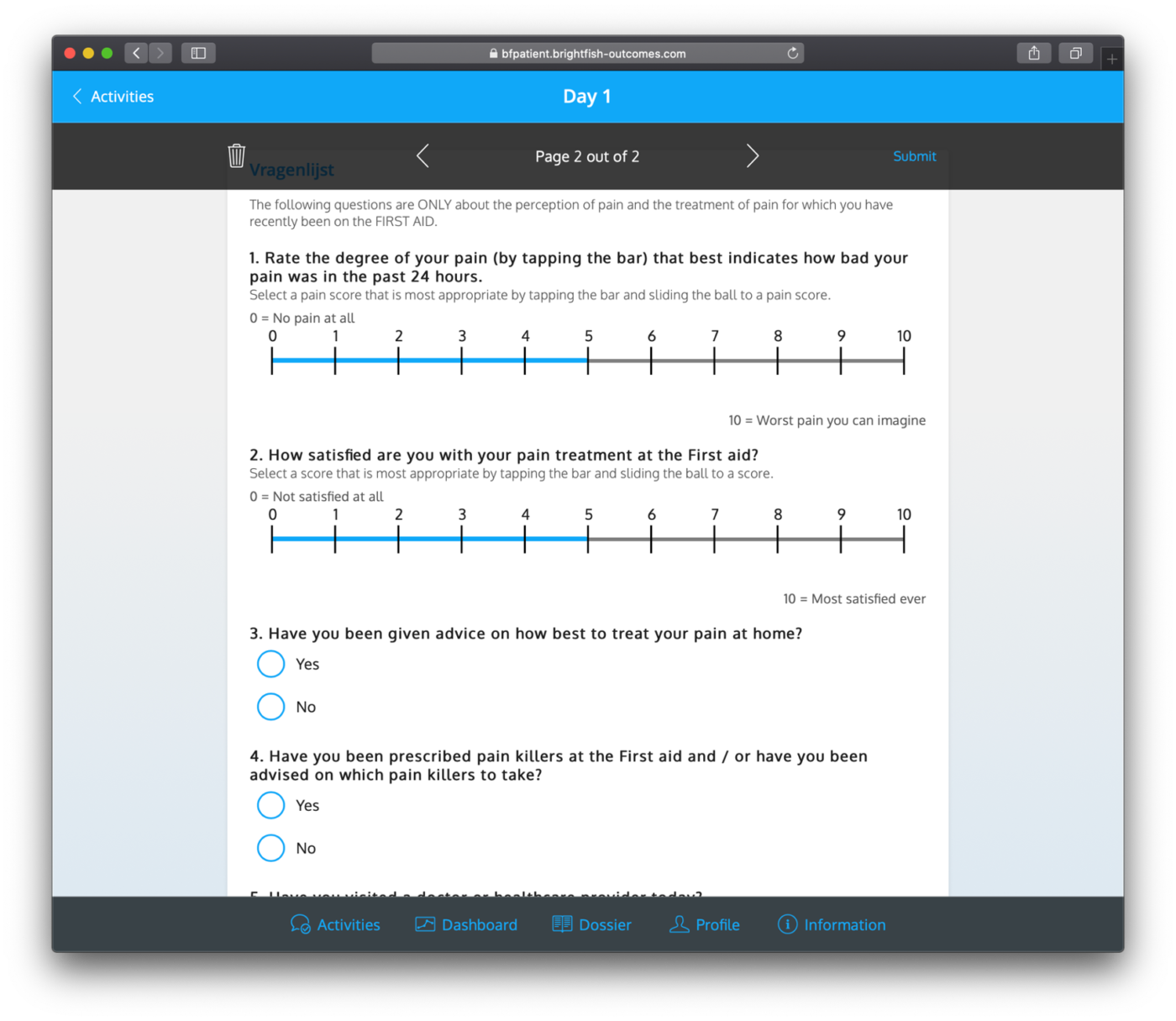 Dashboards
Dashboards are accessible to both patients and professionals, providing a centralized hub to track completed questionnaires, view results, and scores. These user-friendly dashboards offer a comprehensive overview of the data collected throughout the study. Patients can monitor their progress, view their completed questionnaires, and assess their own scores and outcomes. Professionals, on the other hand, can analyze aggregated data, generate reports, and gain valuable insights into patient outcomes. These dashboards facilitate efficient data management, enhance communication between patients and professionals, and contribute to evidence-based decision-making and personalized patient care.

Example dashboard for professionals: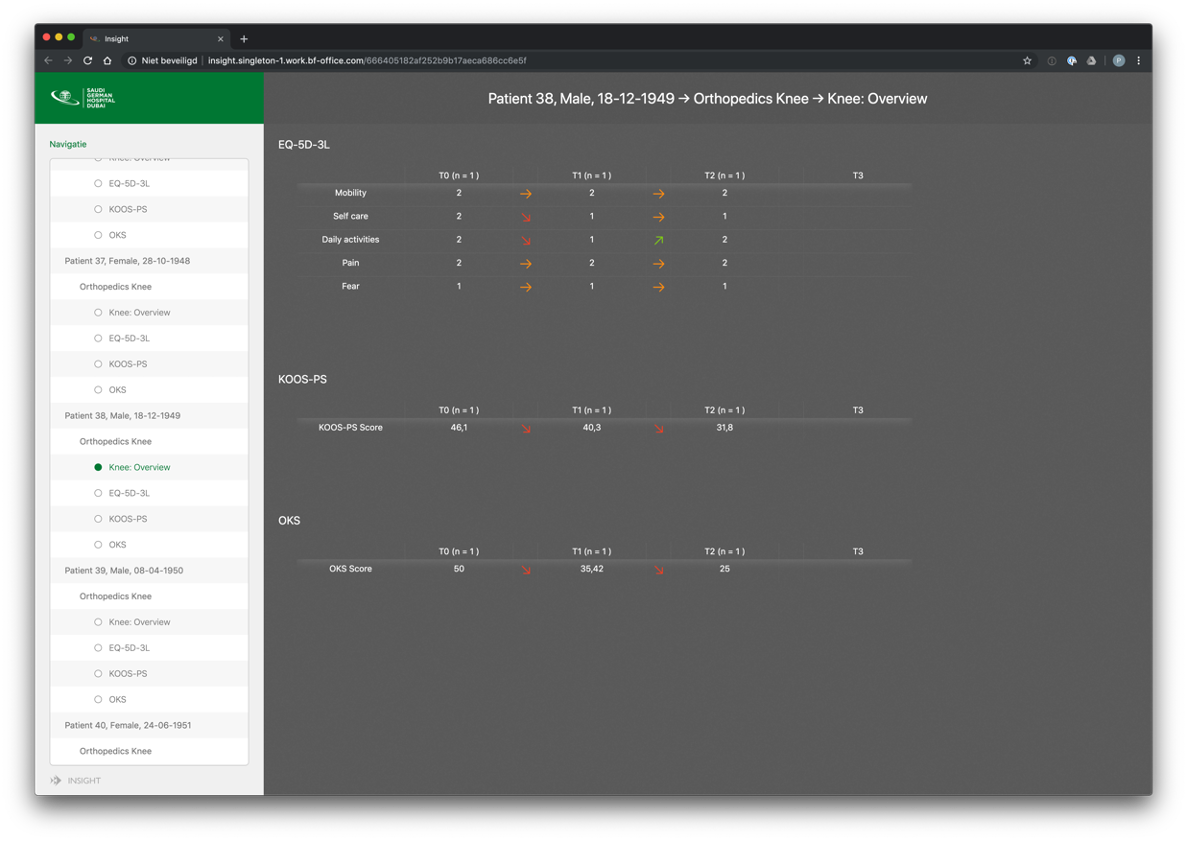 IT integration
The Brightfish platform used in this study ensures seamless IT integration without burdening the local IT department. By utilizing standalone, web-accessible dashboards and registration pages, the platform eliminates the need for extensive IT setup or customization. This streamlined approach allows participants and professionals to access the necessary tools and functionalities directly through their web browsers. The Brightfish platform's design prioritizes ease of use and accessibility, minimizing the reliance on local IT resources and ensuring a hassle-free experience for all users involved in the study.

Simplified IT landscape: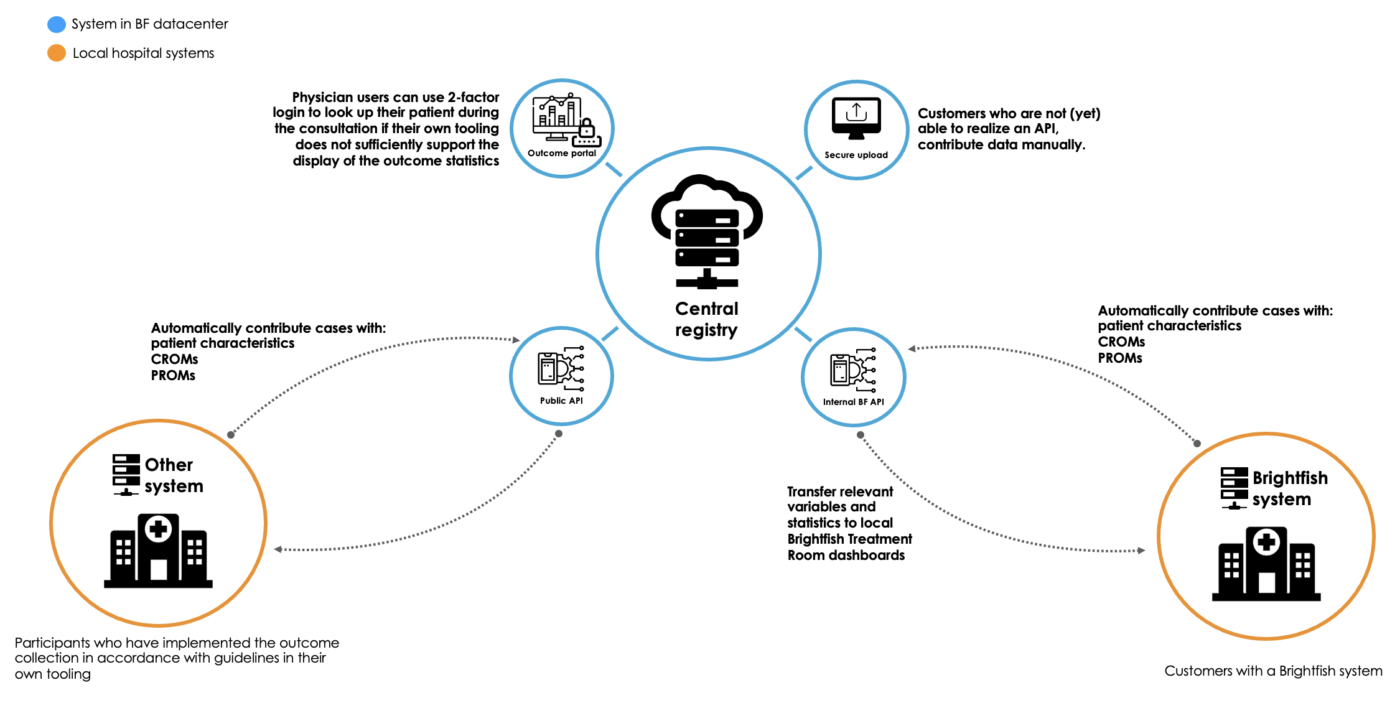 Further information:
Approach

To accomplish these objectives, collaboration with selected clinics and the involvement of patients and clinicians are crucial. Boston Scientific will collaborate with Brightfish B.V. (BF), a specialized platform for data collection and processing, to ensure the standardized collection and analysis of data. The data set will be based on the International Consortium for Health Outcomes Measurement (ICHOM) standard outcome set for venous thromboembolism, enabling participating clinics to potentially participate in the ICHOM global benchmark.
Data and Instruments

The data collected for this study will consist of case-mix information, social economic variables and PROM data obtained through various questionnaires and instruments.
More information can be found here: ICHOM VTE set
The following PROMs will be used:

Questionnaire
PROMIS Scale v1.2 – Global Health
PEmb-QoL
PROMIS Short Form v2.0 – Pain Intensity – 3a
PEmb QoL
PROMIS Short Form v1.0 – Dyspnea Severity – 10a
Anti-Clot Treatment Scale
PHQ-9 and GAD-7
Study Population and Planning

The study population will consist of patients diagnosed with pulmonary embolism. Inclusion criteria include being 16 years of age or older and competent to participate. Patients who have not given permission to be approached for scientific research or lack an available e-mail address will be excluded. The research protocol will be conducted in three phases, starting from September 2023. Phase 1 will focus on implementation and onboarding of participating clinics, while Phase 2 will involve data collection at the participating clinics. Finally, Phase 3 will entail data analysis, including case mix analysis, outcome evaluation, and analysis of the established outcome set.